I
The world of letters is divided by temperaments, ideologies, perceived paranoia, and just plain bad blood.
Two Nobel laureates once took their gloves off in the evening of their years for literary boxing. Derek Walcott's The Mongoose, referencing that eponymous Caribbean creature, was once read out loud at a literary festival. In the witty and scathing poem, Walcott caricatures Sir VS Naipaul, his fellow Caribbean writer and Nobel laureate, and lands a good knockout blow.
Now that these two great writers are of blessed memory, what is left, besides their towering legacy in letters, is the tender and brutal way they cat-fought each other's ideology and practice. I admire both men, even if I am not particularly persuaded by Naipaul's affectations.
American white male writers also indulged in literary feuds. Gore Vidal versus Truman Capote is quintessential. Never mind that Vidal first dissed Capote's New Journalism, a style he later appropriated and even won a Pulitzer for.
There were also intimate literary feuds in that firmament. Ever so often, I return to the scathing letter Saul Bellow wrote to his friend Jack Ludwig, having an affair with Sondra, Bellow's second wife.
Ayei Kwei Armah and Chinua Achebe?
They too had their squabble. Armah told Achebe that rather than take his book's title from Yeats, he would look outside his window and glean one from bus graffiti.
Soyinka and his elders sparred over Negritude and years later, Panashe Chigumadzi would reference this intellectual spat in her own excessive take-down of Soyinka, Nigerian writers and our 'small mountain' Olumo Rock.
There was radio silence from her Nigerian contemporaries. Strike that. There were a handful of tweets, but Akin Adesokan rose to the occasion. His avuncular riposte felt like feedback on an ambitious student's term paper, and that kind of put paid to the matter.
Now to the matter of Ms Adichie versus two lesser known writers. Twitter was recently feverish with excitement over Ms Adichie's three-part essay on her encounters with two alumni of her famed annual workshop.
While the Orange Prize longlisted writer Akwaeke Emezi has taken their L, in a series of frantic and poorly articulated notes on social media, I understand that Timehin Adegbeye has also issued a more muted statement.
L, for the unwoke, is the 'l' in loss, loss in a feud. L is short for accepting or owning a reprimand. The most hilarious deployment of this slang is rapper Blaqbonez's infamous verse on the Mantell cipher, where he humbly bragged about assigning Ls and offers his peers the option of where to locate their L within their names.
Do you want it in front of your name like LL Cool J or in the middle, like Samuel L. Jackson?
Timehin Adegbeye used to edit my weekly essays at Olisa.TV and I can recall an incident. I had posted my copy that week for editing. In this instance, it was a review of Iyanya's Applaudise album, and I had gotten vague feedback from her that it needed more work.
Some feedback, I thought. So I responded: advise me on what more work I need to do. What I got was a summary dismissal to which I did not know how to respond. This triggered an email exchange that I, unlike Ms Adichie, will not publish here, because it was a private conversation—and Ms Adichie crossed a line by sharing those intimate messages.
But I suppose all is fair in love and war, especially when you examine the circumstances of Ms Adichie's response. She had lost loved ones and these writers had taken to Twitter to gloat about how she may be suffering the repercussions of her alleged attack on the transgender community.
They also crossed a line.
II
The Nigerian literary community, like the real world, is a market place, full of intrigue, tall tales and gossip.
It all seems chummy when we gather at readings, share drinks and laughter, but the smiles hardly go deeper than the lips.
As small as that space is, there are cliques who push each other's works by recommendation and social media promotion, but there is hardly any critical peer appraisal.
We don't read each other. Maybe we hardly read at all. But we are revellers who won't turn down a party.
When we are not partying at book readings or festivals, we are plotting against each other.
When Rotimi Babatunde was shortlisted for the Caine Prize in 2012, there was rousing applause until Mr Maiwada launched a plagiarism accusation against his excellent story "Bombay's Republic".
Quickly, the community became divided, embarrassingly along ethnic lines, with a sizable number of writers of Northern extraction egging Maiwada on.
Maiwada, a poet of mild abilities, boasted on Facebook that he would produce an essay to support his knee-jerk plagiarism accusation. The crock of shit he later wrote held neither critical thought nor audience. To his chagrin, Mr Babatunde won the Caine Prize.
In the most staggering farcical display, those on Maiwada's side quickly began their moonwalk to the other side, extending congratulations to Mr Babatunde, who suffered greatly from the rash of the positive media of being shortlisted for a major prize and the negative media caused by the contagion of Maiwada's foolishness.
I have not forgiven Mr Maiwada, obviously.
But this kind of malice is an epidemic. How does one explain that some members of the Ogun State chapter of the Association of Nigerian Authors visited the Ake Festival sharing leaflets maligning Lola Shoneyin, the organiser of that influential festival?
Anyone who knows anything about literary entrepreneurship will acknowledge that the business is all sacrifice and no profit. But there are prominent Nigerian writers who have written to international sponsors, seeking that funding for the aforementioned festival be cut because they weren't invited to the inaugural edition.
It is this kind of anti-intellectual bickering and small-mindedness that has replaced genuine criticism and camaraderie.
I have also been at the receiving end of backlash from writers in the recent past. While I am open to dialogue and criticism, I think this should be conducted in the most civil manner. But social media has access to our most spontaneous thoughts. If a thought is left to linger, perspective may undress its foolishness. But once it goes on social media, it is effectively published. And it stays that way. As we all know, the internet never forgets.
Neither does Ms Adichie, whose reflection on her victimisation by these writers whom she "mentored and championed" is a necessary read for anyone who trades in language and empathy.
I wonder if, for a minute, these relentless abusers imagined that Ms Adichie is human after all or that their uncharitable tweets would find their way into her inbox.
But I suppose they weighed the possible outcomes before making a choice and owning their "truth". The easiest way to be noticed in this literary scene is to espouse an agenda, align with a trendy ideology, tweet vigorously about it and watch your social capital rise.
I agree with Ms Adichie: it is obscene!
Human relationships have been transformed in this age of social media.
There is less care for bonding and more concern for cyber-wokeness. Literary rockstardom has become a hustle. These days you only need a social media account and a consistent projection of your existence.
But social media is only a figment of reality. There is still a place for tactile friendships, and I will always take this over and above the din of the timeline.
I would rather have a front room bustling with bodies than a social media account smarting with notifications.
But that is just me. To each his own.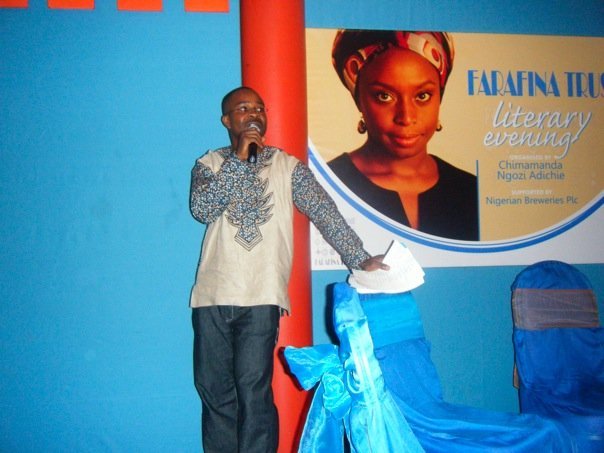 III
Ms Adichie is the leading light of the third generation of Nigerian writers, bar Ben Okri.
I am not excited about critiquing the problematic ageist dimension of categorizing Nigerian writers into generations.
So here is a counter-argument within that reductive framework: she is the leading light of the fourth generation of writers, to which, by the merit of a couple of poems, I also belong.
Sometime in 2009, when I was still a medical student but already a publisher of Saraba Magazine, I left Ife to attend one of those famous literary Farafina evenings. Ms Adichie was the star of the show, understandably.
I went to that event as a young writer myself, still conflicted about studying Medicine and Surgery. I was clear about my love for language, but I did not know if abandoning medical school was worthwhile.
Ms Adichie was on a panel with facilitators of her annual workshop. Binyavanga Wainaina was there. American writer Nathan Englander was also there. The Q&A session was a time for people to offer their adoration to Adichie, who looked stunning with a ready smile and booming laughter. I watched this panel become facile because there was hardly any serious engagement with the texts that had been read by the panel.
I had questions for all the panelists. For Nathan Englander, it was about his story published in the New Yorker that year. His face lit up. He felt recognised that minute, and I felt that too. For Binyavanga, it was a question about Kwani? the literary magazine he founded. And for Ms Adichie, I asked her what she intended to write about next.
Ms Adichie's response was a washdown. She conjectured that I did not read, and she summarily concluded that I was one of those blurb readers who gleaned all their reading from the back of book covers. There was a conceited smile lurking in the corners of her mouth. I felt small in that audience, as I felt the power of her voice reprimand me for asking her what directions her future books were going.
But I clamoured for the microphone again. Mr James Eze, the compere at that event, ignored me, until Binyavanga spoke into his mic that the "young man" had a response.
Once empowered with the microphone, I reeled out all her stories in the new book The Thing Around Your Neck, which I had read and reread as a student of the craft. I stated that I had a theory she was about to write an immigrant novel. To this, she smiled, and responded that I have to keep reading her to find out.
Later that evening, Mr Eze walked up to me and said I was a disgrace to my generation. 12 years later, I still think this was an awful thing to say to a young person. And I still find myself wondering why Mr Eze will direct a statement that vicious at me.
A few years later, Ms Adichie published Americanah.
The limelight is something Ms Adichie luxuriates in—and this too has consequences. Like the absence of a fourth novel. Like befriending woke rabble rousers who smile in her face but stab her multiple times in the back.
This article was amended on 11 August 2021. The Farafina Literary evening held in 2009, not 2010. This has been corrected.